Areas of Operation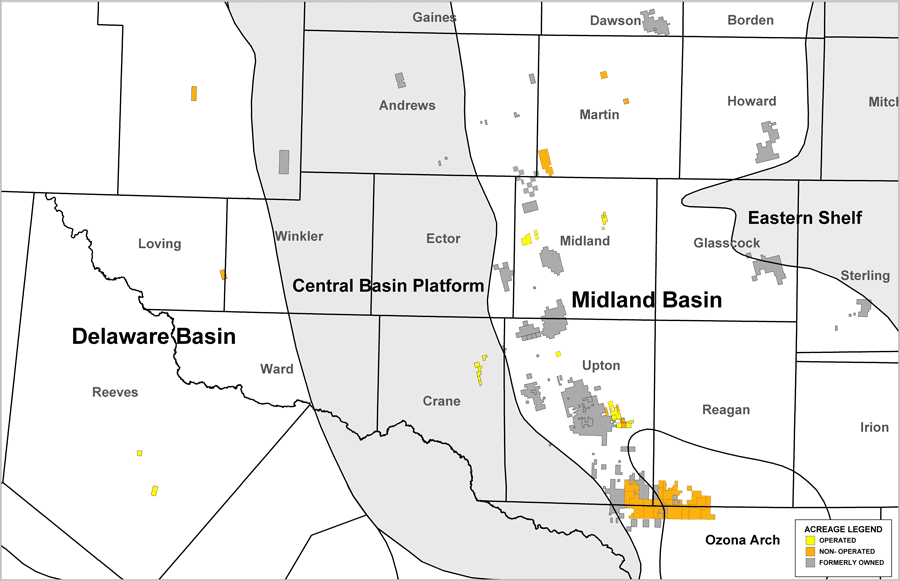 Operational History
Since the discovery and development of the Wolfberry in the early 2000s, Henry has deployed nearly $2 billion of capital in the drilling and completing of more than 1300 wells. Much of that activity was, and continues to be, in partnership with with major oil companies like Chevron. In addition, Henry has had many successful joint venture partnerships with public and private independent oil companies and private equity firms over the years.
Recent Operational Stats
Drilled and completed ~250 vertical wells since 2012.
Drilled and completed 85 horizontal wells and counting since 2014.
Joint Venture/Investment Partners
Integrated | Chevron, Exxon

Independents | SM Energy, Energen Corp., Diamondback Energy , Mewbourne Oil Company, Fasken Oil & Ranch

Private Equity | Kayne Anderson, Post Oak Energy Capital, Grey Rock Energy Partners, Pickering Energy Partners
Growth Strategy | Henry Resources
Henry typically operates 1-2 horizontal rigs and will add or reduce rig count depending on company cash flows and business opportunities and/or lease obligations. Our focus is to maintain a cash flow neutral spend rate while meeting all asset level obligations and growing company rate and reserves through the drill bit.
We remain acquisitive for high quality projects in both the Midland and Delaware Basins. Our preferred deal structure allows for a ~40% operated working interest to Henry.
Operated acreage positions in both the Midland and Delaware Basins.
Our capital budget and net production are at all time company highs.
Our net reserves are the highest they've been since immediately prior to Concho sale in 2008 when the company was operating over 330,000 acres.
PDP Strategy | PEP Henry Production Partners
A strategic joint venture between Henry Resources, Pickering Energy Partners, and Institutional Investors, PEP Henry Production Partners will target acquisitions of producing oil and gas assets across the Permian Basin. The JV will focus primarily on horizontally developed unconventional properties.
Under the terms of the partnership, Henry and PEP will look to invest at least $500 million in these specific asset types which will be operated by the Henry team. The strategy includes a significant current yield to investors, protected by a regimented hedging program.
Contact
3525 Andrews Hwy
Midland, TX 79703
Phone: (432) 694-3000